Hybrid presentations—aka presentations with in-person and remote attendees—are becoming a new norm. It's a result of the ever-evolving digital landscape, which means traditional presentations and conferences must adapt to stay relevant and be inclusive. 
Consider this recent Gartner survey of 10,000 digital workplace users. The results indicate that virtual meetings and presentations drastically outpaced in-person options from 2019 to 2021. In 2019, these users spent 63% of their meeting time participating in-person and only 37% of their time participating virtually. Fast forward to 2021, and the numbers switch—33% of the meeting time was spent in-person, and 68% was spent virtually.
Although virtual participation is ramping up, there are still times when we need in-person meetings. Perhaps you have to complete a hands-on project, or maybe you're simply getting cabin fever and want to bond with your co-workers!
To meet the rising demand for virtual meetings and still offer in-person options, hybrid presentations are the way to go.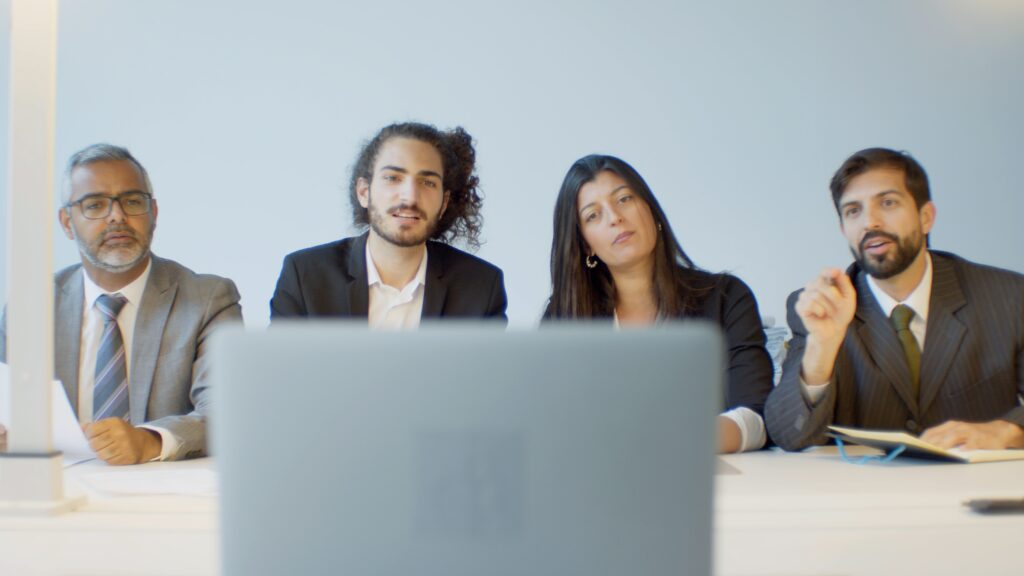 Benefits of Hybrid Events and Presentations
The wonderful thing about hybrid meetings is that they benefit both the leaders and attendees. If you're considering hosting a hybrid presentation, here's what both parties will stand to gain.
Savings on Expenses – A study by Verizon comparing virtual vs in-person meetings found there were significant cost savings to be had by offering hybrid attendance options. Think about it—with fewer people traveling, eating catered meals, or needing space, employers can save a remarkable amount of money.
Sought-After Audience Participation – Do you ever recall needing to ask a question during a presentation, but time ran out? Or perhaps you were too nervous to stand up in front of everyone and voice your query. With hybrid options, audience members will have more avenues to engage and participate in a presentation. Both in-person and virtual attendees can submit questions and comments through a messaging system or other digital space, allowing everyone a chance to have their voice heard. And no more squinting to see the presentation from 20 rows back! In-person and remote participants can instead pull up the hybrid presentation on their device to have it right in front of them.
Less Environmental Impact – By offering remote participation options, those looking for ways to reduce their carbon footprint can choose to stay home instead of using gas to drive or fly to a meeting. And with fewer in-person participants, hosts can produce fewer in-person presentation resources, like printed materials or food waste.
More Opportunities for Creativity – Hybrid meetings should not be treated like in-person meetings or virtual-only meetings. This means—it's time to get creative! Find ways to make your presentation appealing to the in-person and virtual audience. For example, consider using a collaborative online whiteboard so all participants can see what's happening. You might find that hybrid event innovation makes presentations—dare we say—fun?
And although the benefits of hybrid presentations are numerous, they also present a few challenges—but these issues are easy to overcome with the right mindset and tools.
Problems With Hybrid Meetings and How to Overcome Them
Hybrid events have their own difficulties unique to the hybrid format. Consider these common challenges and tips to overcome them:
Inviting Attendees – Inviting people to attend your presentation is usually fairly easy—send out a virtual room link or an invitation with details on the in-person gathering. But for a hybrid meeting invitation, don't forget to include instructions on how to attend both ways.
Getting Everyone Settled – Hybrid meetings require monitoring an in-person and virtual room. Encourage virtual participants to join five to ten minutes early. This will allow space to overcome technical difficulties and ensure everyone is ready to start on time. It will also allow the hosts to have time to greet all virtual and in-person attendees.
Forgetting Virtual Participants – Managing in-person and virtual interactions simultaneously is tricky—sometimes even overwhelming. It can be so easy to forget your remote audience! Consider having a designated person to monitor virtual participants and bring their needs to the presenter's attention. You can also use a meeting platform like Alleo, where you can keep your presentation and virtual participants all on the same screen.
Clarifying Participation Instructions – If you want feedback and participation during a hybrid presentation, be clear to both audiences how they can interact with you. Demonstrate methods of interaction to both sides, whether it be through chat, a collaborative digital space like Alleo, a virtual/in-person hand raise, etc.
Managing Eye Contact – Direct eye contact during a presentation has proven to increase engagement. But how do you make eye contact with the virtual side of your audience? Have your camera set up in a way that makes it easy to look at it, then your audience, then back to the camera. And when we say camera, we mean camera—if you stare at your virtual participants' faces on a laptop screen, it will not appear to them that you are making eye contact.
Running Out of Time – With everything mentioned above, unless you have a specialty platform like Alleo, hybrid presentations will likely take a bit longer than a 100% virtual or in-person meeting. When planning a hybrid presentation or meeting, factor in extra time to accommodate these unique needs.
What Do You Need for a Hybrid Meeting or Presentation? Consider Alleo!
With the rise of hybrid events, meetings, presentations, and more, you need technology that makes the hybrid experience feel special and purposeful. With Alleo, you can achieve this and so much more!
Alleo is a virtual visual canvas and collaboration platform designed to optimize hybrid meetings and presentations. We've gone the extra mile to give you:
Customization options to work, present, and visualize however you want.
Presentation templates to get the creative juices flowing.
Real-time collaboration capabilities to keep both virtual and in-person participants engaged and on the same page.
Security that ensures the safety of your data and privacy of presentations.
Accessibility to the Alleo platform from any device—no downloads required!
If you'd like to see everything, engage everyone, and keep participants aligned in your hybrid gatherings, Alleo might be the solution you've been looking for. Ready to up your hybrid presentation game? Contact us to get started!